Annual Conference
ICOM-ASPAC 2019 Meeting & General Assembly (Monday, 2 September),
25th ICOM General Conference, Kyoto, Japan, 2019.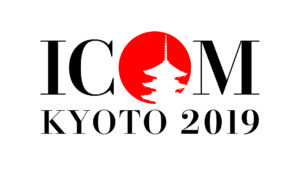 [14:30-16:00 JOINT-SESSION WITH ICOM-CAMOC]
(Room 208, Inamori Memorial Hall)
14:30-14:40 Welcoming addresses.
– Kidong Bae, Chairperson of ASPAC.
– Joana Sousa Monteiro, Chairperson of CAMOC.
14:40-14:55 Exchange in International Cooperation for the Inheritance of Cultural Properties and the New Role of Museums within ASEAN Countries.
– (ASPAC) Yoshiaki Ishizawa, Japan.
14:55-15:10 Community Hubs and Cultural Rejuvenators: Singapore's Community Museums.
– (CAMOC) Alvin Tan Tze Ee, Singapore.
15:10-15:25 Pacific Islands Museums for Sustainable Development.
– (CAMOC) Akatsuki Takahashi, UNESCO Office for the Pacific States.
15:25-15:40 The Future of Silk as Cultural Heritage in Museum.
– (ASPAC) Feng Zhao, China.
15:40-16:00 Discussion.
[16:00-16:20 Coffee Break]
[16:30-18:00 ICOM-ASPAC GENERAL ASSEMBLY (INCL. ELECTION OF THE BOARD)]
(Room 204, Inamori Memorial Hall)
16:30-17:00
1. Welcome and Chairperson's report (Incl. ICOM-ASPAC's finance; and the ICOM-ASPAC project of collecting its member countries' laws on cultural heritage and/or museums)
2. Presentations
2.1) "ICOM-Iran's Activates during 2018 Emphasizing on Role of ICOM for Crisis Management", Mohit Tabatabaei (Iran)
2.2) "As the Center of Cultural Inclusiveness–Chinese Museums and Their Practices", Grace Ai (China)
17:00-18:00
3. General Assembly
 3.1) Opening and adoption of the agenda
 3.2) Voting: election of the Board (2019-2022)
 3.3) Endorsement of 'Recommendation' and 'Declaration' of ICOM-ASPAC Meetings in 2017 and 2018 respectively
 3.4) Announcement of the election result, and introduction of the newly elected Board
 3.5) Call-for-host, place and theme: ICOM-ASPAC annual meeting in 2020
 3.6) Discussion (Incl. ICOM-ASPAC's rules, etc.)
 3.7) Other matters.